While the New York edition was canceled due to the building issues, VOLTA Basel returns to reaffirm the fair's strong position. Taking place in June, it will once again provide a space for discovery, continuously evolving and reinventing its shape.
VOLTA Basel was founded in 2005 as a collaboration between dealers and friends, aiming to secure a platform for international galleries beyond young art stalwart Liste and market heavyweight Art Basel. Due to the curatorial mind of Artistic Director Amanda Coulson and eclectic and dynamic presentations with a strong focus on solo presentations, the fair has grown into one of the must-see events during Art Basel Week.
This year, the fair will bring together 79 galleries to showcase compelling artist projects. As Coulson noted, the art world landscape, as well as the broader political and cultural landscapes, have shifted so much since the fair was founded.
And yet, our core foundation of advocating for 'mother galleries' — for the emerging and the ambitious who may break into the blue-chip fairs one day or who are being overlooked despite their progress 'at home' — remains as true and as serious as ever. The quality and consistency of our exhibitors and their compelling projects reflect this mandate. VOLTA visitors are in for a real treat this year.
VOLTA Basel 2019 Exhibitors
VOLTA Basel 2019 welcomes its exhibitors across four continents and 25 nations. Over half of the participating galleries have elected to showcase solo or dual-artist projects, a popular mode of presentation at VOLTA fairs, with fully 21 solo projects this year.
Highlights include Beta Galería from Bogota, focusing its search on contemporary artists from the Colombian and Latin American scene; Martin Asbæk Gallery from Copenhagen, focusing on contemporary Scandinavian as well as international art by well-established and up-coming artists who work in a wide range of media; Island Japan from Tokyo, introducing a number of innovative young artists; Kersgallery from Amsterdam, showing new tendencies and individuals, focusing on both Dutch and international art; Galeria Contrast from Barcelona, showing a line of work focused on Figurative – Conceptual Art; Patrick Heide Contemporary Art from London, fosters an international range of emerging and mid-career artists, dedicating much of its attention to drawing and works on paper; Burning In Water from New York, featuring an innovative curatorial program that highlights the work of living artists with reference to broader issues confronting society; and Cerquone Projects from Caracas, dedicated to the dissemination and investigation of contemporary art; among others.
The List of Exhibitors
Galleries
Bechter Kastowsky Galerie (Vienna)
Hilger BrotKunsthalle (Vienna)
The Chemistry Gallery (Prague)
Beta Galería (Bogotá)
Martin Asbæk Gallery (Copenhagen)
Charlotte Fogh Gallery (Aarhus)
KANT (Copenhagen)
Galerie Anhava (Helsinki)
Galleria Heino (Helsinki)
Helsinki Contemporary (Helsinki)
Gallery ALB (Paris)
Espace A Vendre (Nice)
Galerie La Forest Divonne (Paris/Brussels)
Galerie Mark Hachem (Paris/Beirut/New York)
Luisa Catucci Gallery (Berlin)
Galerie Thomas Fuchs (Stuttgart)
Galerie Anja Knoess (Cologne)
Christian Marx Galerie (Düsseldorf)
Galerie Heike Strelow (Frankfurt am Main)
Galerie Von&Von (Nuremberg)
X-Pinky LAB (Berlin)
Lena & Roselli Gallery (Budapest)
Gibbons & Nicholas (Dublin)
Green On Red Gallery (Dublin)
Alessandro Casciaro (Bolzano)
The Flat – Massimo Carasi (Milan)
Galleria Doris Ghetta (Ortisei)
Anna Marra Contemporanea (Rome)
Montoro12 Gallery (Rome/Brussels)
Yvonneartecontemporanea (Vicenza)
Cohju Contemporary Art (Kyoto)
Island Japan (Tokyo)
Gallery Kogure (Tokyo)
Gallery Shukado (Tokyo)
Tezukayama Gallery (Osaka)
YOD Gallery (Osaka)
Bastejs (Riga)
Artual Gallery (Beirut)
Rutger Brandt Gallery (Amsterdam)
Roger Katwijk (Amsterdam)
Kersgallery (Amsterdam)
Kyas Art Salon (Amsterdam)
Livingstone (The Hague/Berlin)
NL=US Art (Rotterdam)
Ten Haaf Projects (Amsterdam)
Anca Poterasu Gallery (Bucharest)
Sector 1 Gallery (Bucharest)
KultProekt Gallery (Moscow)
Zahorian & Van Espen (Bratislava/Prague)
Gallery H.A.N. (Seoul)
Lee & Bae (Busan)
Galeria Contrast (Barcelona)
Victor Lope Arte Contemporanea (Barcelona)
Set Espai d'Art (Valencia)
Le Salon Vert (Carouges)
Galerie Wenger (Zurich)
Verbier 3-D Foundation (Verbier/New York)
Mironova Gallery (Kiev)
Charlie Smith London (London)
Fiumano Clase (London)
Patrick Heide Contemporary Art (London)
Paul Stolper Gallery (London)
1969 Gallery (New York)
Burning In Water (New York)
C24 Gallery (New York)
Ethan Cohen Gallery (New York)
frosch&portmann (New York)
Green Point Projects (Brooklyn)
JanKossen Contemporary (New York)
Joshua Liner Gallery (New York)
Maus Contemporary (Birmingham)
Pablo's Birthday (New York)
Pentimenti Gallery (Philadelphia)
RoFa Projects (Potomac)
SFA Projects (New York)
Slag Gallery (Brooklyn)
Space776 (Brooklyn)
Cerquone Projects (Caracas)
Vin Gallery (Ho Chi Minh City)
Maus Contemporary at VOLTA Basel
Maus Contemporary, a gallery from Birmingham, USA dedicated to supporting creativity with a focus on experimental as well as issue-driven work, will present artists Felix Becker, Mafalda Figueiredo, Yoshishige Furukawa, and Léopold Plomteux.
A German contemporary artist, Felix Becker is known for his abstract works in which he combines an uneven application of paint with a geometric subdivision of the picture surface, evoking monochrome color fields. Becker usually covers the entire surface of the canvas with a single color, from which he either abrades individual parts of the composition or models certain motifs from the body of the color itself.
Lisbon-based Mafalda Figueiredo draws inspiration from her own and other people's dreams, using these unreal images to portray her deep questioning about the human condition. Always starting from within, she creates layered and meaningful works subtly and distinctively deconstruct sexual norms, customs, gender identity and expectations. The audience at VOLTA will have an opportunity to see the artist's latest body of work.
The practice of the Japanese artist Yoshishige Furukawa was concerned with developing a visual space with color and forms on a visual plane. Sculpting than rather paintings his canvases, he used materials such as rubber, metal grommets, stitching materials (often staples), and the stretcher frame to take abstract painting forward. Splitting the last decades of his life between the U.S. and his native Japan, Furukawa produced multifaceted work which at the same time indicates an eye to Minimalism as well as a deep sensitivity to material and line that recalls Japanese Imperial architecture. Maus Contemporary will present works from the mid-1960s to the mid-1970s, showing a shift in the artist's practice.
Founding member of the artist groups Réalité-Cobra and subsequently Art Abstrait, Belgian artist Léopold Plomteux (1920-2008) transitioned from figuration to abstraction in the late 1940s. His large-format works are characterized by strong brushstrokes and additional impasto markings, executed in a coordinated palette of few colors.
In the gallery booth, a large section will be dedicated to important historical works by Furukawa and Plomteux in dialogue with recent paintings by Becker, while a separate section will be reserved for the large scale, figurative paintings by Figueiredo.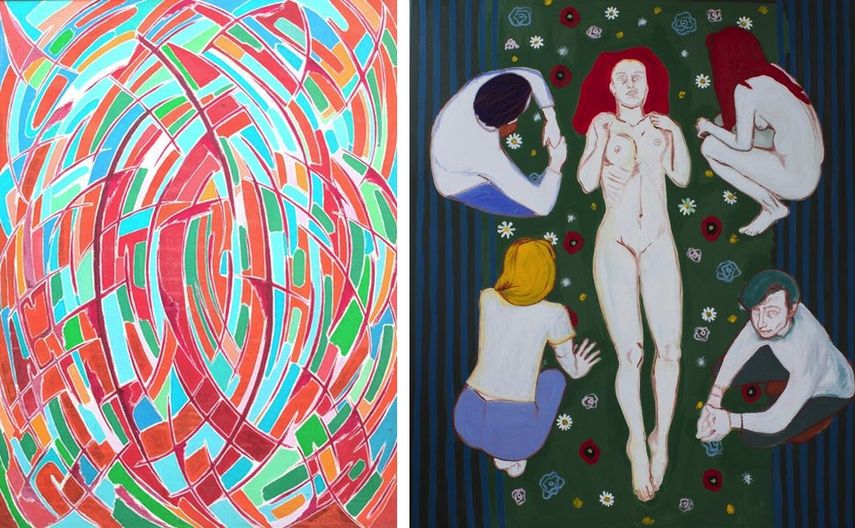 Practical Information
VOLTA Basel 2019 will take place at Elsässerstrasse 215 in Basel from June 10th until June 15th, 2019. The Guest of Honor + Press Preview will take place on Monday, June 10th, from 10 a.m. to 12 p.m., the VIP Preview will take place between 12 and 2 p.m., while the public vernissage will take place from 2 to 7 p.m.
The doors of the fair will be open to the public from 10 a.m. to 7 p.m. from Tuesday to Saturday.
The price of the tickets at the doors will be CHF 20 (≈$19.8), while the price for students, cultural institutions and seniors will be CHF 15 (≈14.8). The tickets could also be purchased online.
For more information, visit the official website of the fair.
Location of VOLTA Basel 2019
Featured image: VOLTA at Elsässerstrasse 215; Ursula Hawlitschka of Montoro12 Contemporary Art (Rome/Brussels) and a collect discuss new hand-painted "tapestries" by Jason Seife; Haruka Ito (center, owner of island Japan, Tokyo) presents works by BIEN to collectors; At Galleria Paola Verrengia (Salerno), artist Amparo Sard, center in yellow, discusses her practice with collectors, as other guests engage with her artworks and those by Kaori Miyayama (left wall) and Maria Elisabetta Novello (center wall, right side). All images courtesy of VOLTA Basel.