[ad_1]

Many of us are immigrants. Some of us are refugees, and most of us are migrants in one form or another. Whether we move from our childhood home to another place in the same or different city (near or far), we have all left something behind, packed our baggage and memories and started again.
Curated by Risa Puleo, Monarchs: Brown and Native Contemporary Artists in the Path of the Butterfly is a traveling exhibition that began at Bemis Center for Contemporary Art (Omaha, NE) where Puleo is curator-in-residence. Following three other stops, Monarchs will reach its final destination in June 2019 at The Soap Factory, Minneapolis, MN.
Referencing the migratory path of the Monarch butterfly, the exhibition can be seen as a map of the artists' metaphysical journey that draws upon concepts such as ancestry, cultural inheritance and displacement. Monarchs infers contemporary issues surrounding borders, immigration and the Dakota Access Pipeline. The butterfly makes its journey free and oblivious of man-made borders and through the artistic process, the artists find conceptual freedom.
Monarchs is divided into three thematic spaces: Migrations, Inheritance and Transformation. View this exhibition not as a grouping of artistic vision to form a political statement, but as a chance to get to know each artist's story. Geographically situated somewhere along the migratory path of the Monarch, they are united in an artist's journey and bound by the dichotomy of where they came from and where they may go.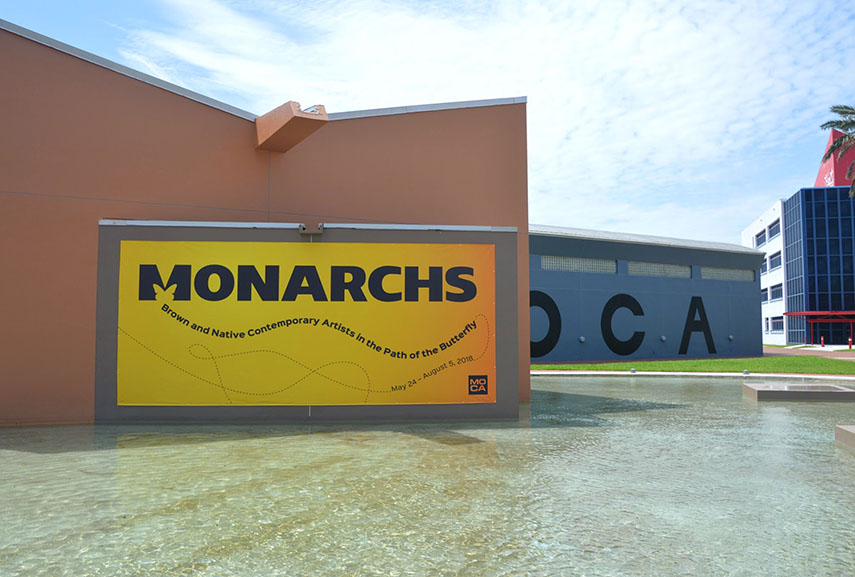 Mary Valverde – Untitled (Altar), 2014
Mary Valverde uses ephemeral materials such as ink, string, fabric cotton and wire to reflect upon sacred spaces and rituals and politics of production, exploitation, social roles, culture, and tradition.
She seeks to understand herself better within the act of making, while examining the politics of production, exploitation, social roles, culture and tradition.
Truman Lowe – Waterfall, 1993
Born in Black River Falls, Wisconsin Truman Lowe is deeply rooted in his Winnebago roots where art is a part of daily life. His mother was a basket weaver and father made the wood handles.
He has a deep understanding of his medium and following his MFA show said, "I was so familiar with trees and water and bluffs that it was important for me to come back [to them in my work]."
Nancy Friedemann-Sanchez – Cornucopia, 2016
In her art, Nancy Friedemann-Sanchez explores the experience of identity, memory and gender and "the outsider stance toward both native and adopted cultures."
Cornucopia is inspired by the Spanish Colonial Mopa Mopa where natural resin indigenous to Colombia is heated, stretched, painted and adhered to wooden objects. In Colonial times this process mimicked Chinese lacquer.
Referencing the stripping down of Colombian cultural works of gold and silver to be traded to Europe and China, Cornucopia "revisits the patterns of memory and the trauma of colonization in both our past and contemporary world."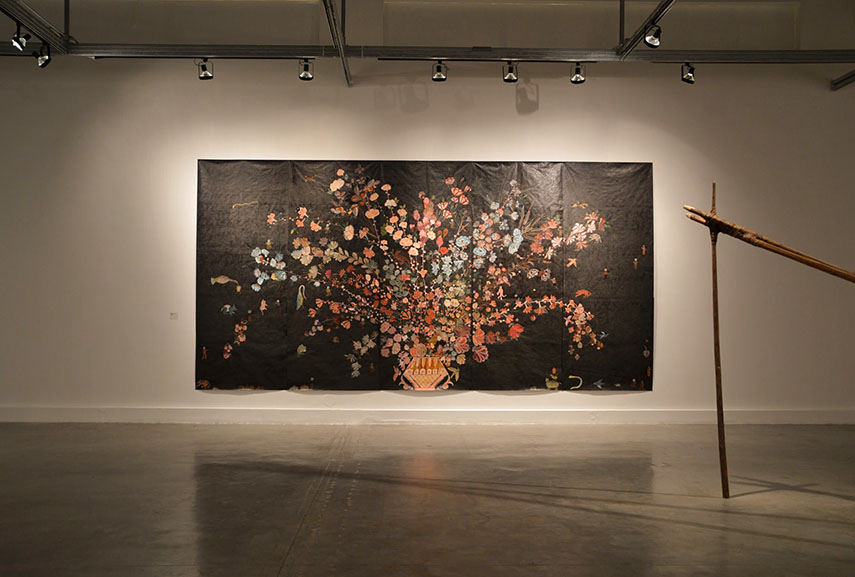 Rodolfo Marron III – Michoacánx, 2017
Rodolfo Marron's Michoacánx digitizes and documents photographs of families, but shrouds them with glitter, flowers, threads and other materials leaving only their eyes visible so that the viewer can connect only through the subject's gaze.
Caló slang and Catholic iconography help further comment on narratives pertaining to the Latinx community such as deportation, gangs, incarceration, ritual and immigration.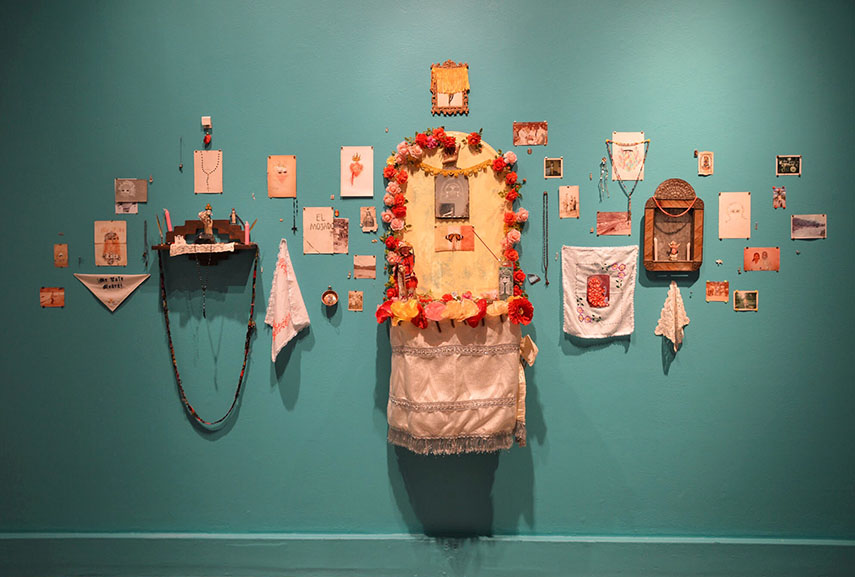 Carmen Argote – My Father's Side of Home, 2014
Carmen Argote's large wall fabrics draw inspiration from her architectural drawings of homes he wished to build in in Guadalajara. This work references her father's office space in their home, Mansion Magnolia. In describing her work Argote states:
I work from an intimate and personal place, using shared experiences to connect the spaces that house us to notions of home and self. Often working with family, I explore our shared immigrant experience as a layered, multigenerational, transnational experience that is echoed through shared memories, traumas, and aspirations, extending outward from the intimate space of home.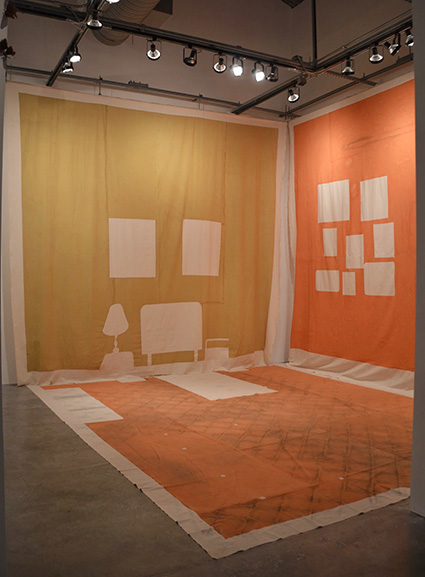 Gina Adams, From the series: Its Honor is Hereby Pledged – Fort Laremie Treaty 1851, 2015 / Treaty of Guadalupe Hidalgo 1848, 2017
Gina Adams is fascinated by stories told by her own family or others. Her work is a spiritual endeavor enabling her to better under her ancestors and in turn, herself and how she is similar to them. She says, "the process of making imbues my identity with an ancestral connection to the sacred and the ritual object."
Her work includes the reuse of antique quilts that reflect broken treaties between the United States and Native American tribes.
Monarchs at MoCA North Miami
Monarchs: Brown and Native Contemporary Artists in the Path of the Butterfly closes August 5, 2018 at the Museum of Contemporary Art (MOCA) in North Miami.
Participating Artists:
Gina Adams, Carmen Argote, Natalie Ball, Margarita Cabrera, Juan William Chávez, Yanira Collado, william cordova, Franky Cruz, Rafa Esparza, Nancy Friedemann-Sánchez, Guillermo Galindo, Jeffrey Gibson, Sky Hopinka, Donna Huanca, Truman Lowe, Ivan LOZANO, Cannupa Hanska Luger & Marty Two Bulls Jr., Salvador Jiménez-Flores, Merritt Johnson & Nicholas Galanin, Rodolfo Marron III, Harold Mendez, Mark Menjivar, Ronny Quevedo, Gonzalo Reyes Rodriguez, Josh Rios & Anthony Romero, Guadalupe Rosales, Onajide Shabaka, Carlos Rosales-Silva, Francisco Souto, Dinizulu Gene Tinnie, Rick Ulyssee, Rodrigo Valenzuela, Mary Valverde, Dyani White Hawk, Sarah Zapata.
Written by Lisa Morales.
Featured image: Monarchs Installation View, photo by Lisa Morales. All images courtesy the author.


[ad_2]

Source link