[ad_1]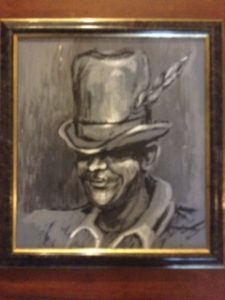 Price:  $345    NOW $165
Man of the Year
by Don Stephens
Original Acrylic on Board
Size 16″ x 20″ Approx
Donald Stephens resides in Burlington County NJ since 1987.  He has attended Burlington County College obtaining an AAS 90'. Mr. Stephens then furthered his yearning for the arts at Temple University Tyler School of the Arts, where he has achieved his BFA 96'; simultaneously completing a full term in the United States Marine Corps Reserve as a Communicator. Lately, he has displayed his work in various locations in the Delaware Valley area and Northern New Jersey Area. To add, the role of Artist/Instructor/Lecturer  has been carefully added to his list of creative skill; teaching in the area art centers of Southern NJ: Markiem Art Center, Perkins Art Center, Burlington County College Community Enrichment,  Art Teacher at Garfield Park Academy and several other locations throughout the New Jersey , Philadelphia area. Mr. Stephens's unique expressive quality enables him to create in several modes of material manipulation from wet to dry but has a deep passion for charcoal drawing. Within his observations Donald has formulated his own visual syntax that has been described as expressive, informative and imaginative simply by maneuvering material and experiences to convey a certain moment in time and space.
Offered at $345    NOW $165

Make Offer – Ask Question
Extremely low offers will not be considered. Please do not make offers if you are not serious about buying this item.
An October Gallery ArtPro will respond to you as soon as possible.
If you prefer a telephone follow up, please leave your phone number.
.


[ad_2]

Source link