[ad_1]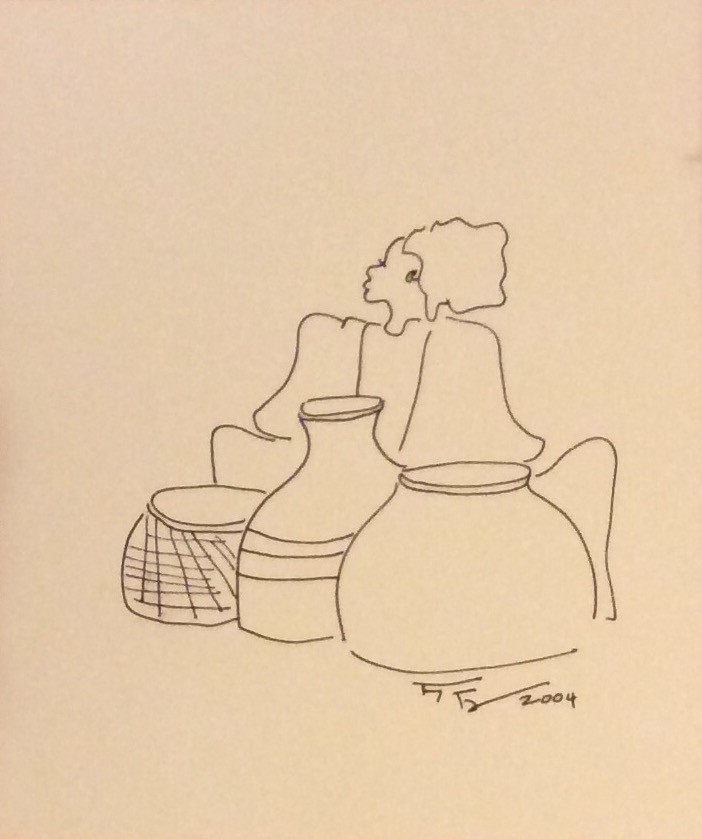 Price:   $385    NOW  $195
Lady Five
by Frank Frazier
Original Ink on paper
Size 7″ x 8″  Approx
Frank Frazier began his work as a fine artist early, at the age of seven. He was creating paintings in his family's Harlem, New York City home. A husband and father of five, he recalls growing up, "we were not poor, but my family was a little different." At the age of 15, his family moved to downtown New York City, which precipitated his "getting into a lot of trouble" as a youngster. A move to Queens, New York, brought with it a stint at a boys' institution in upstate New York, but it also marked the point where Frazier turned his life around. While at the school, he was responsible for creating art for the "different bunks." Teachers noticed his talent and later as a Sergeant in the Army during Vietnam, officers gave him the responsibility of painting art and shirts for the platoons. Frazier's designs included a mixture of different scenes which he completed for free; he and his fellow soldiers weren't thinking about money when they did their work. Amazingly, after his stint in the service, "I recall my family throwing lots of my art away." Ironically, today it is the love and support of his immediate and "great extended family" that inspires him.
This sculptor, painter, and collagist cites the Creator as his biggest influence. "The Creator inspires me. He puts whatever I need in me. He also admits that he "loves black women and likes to use them in his art." Frazier also credits Romare Bearden, Jacob Lawrence, and Elizabeth Cattlett as his biggest artistic inspirations. Speaking on how the Diaspora influences his art, Frank muses, "I go to Senegal, West Africa a lot. Many of my collages are influenced from there." As far as the media he works with, the sky is the limit. "I paint with oils, watercolors, and charcoal, anything that's available," says Frazier.
"When I see young people look with respect and appreciation for the art of today, I think of Sankofa, and how we must go back to the past to understand the present," he observes. "Take Grant Hill, the famous basketball player. Young people heard Hill is exhibiting his art collection around the United States, and they want to be a part of it because of him, although it's really the art he has collected they are coming to see! He is holding our heritage for our children."
Although the artistic creations of many blacks were not embraced by "mainstream" art dealers, always positive, Frank admits, "My experience as a black artist has always been good. I like working with black- owned galleries because they also expose us artists to other people's creativity, old artists and new. Shows like this[BHAS] allow us to make a living off of our creativity, with our people supporting us. Charles Bibbs and Poncho [Brown] have come under criticism for mass-producing their work, but I think it's great to bring an artist's work into many homes."
Now living in Texas, Frazier is working on a series of paintings on the civil rights movement. He recently completed a road trip to various Southern cities that were pivotal to the struggle for equal rights; Jackson, Mississippi to Birmingham, Alabama, to Selma, to Tuskegee. This statesmen of art was "never motivated by money" when producing his art; the love of black history and culture and creation are his driving force. Frank Frazier serves up life's wisdom as well as beautiful art; he offers this, "when life gets you down and you feel no one is helping you achieve your goals, remember this, even when somebody has their foot up your behind, you are still in front; You can still make it!"
Offered at $385    NOW  $195

Make Offer – Ask Question
Extremely low offers will not be considered. Please do not make offers if you are not serious about buying this item.
An October Gallery ArtPro will respond to you as soon as possible.
If you prefer a telephone follow up, please leave your phone number.


[ad_2]

Source link